2017
BRENAU UNIVERSITY - PEARCE AUDITORIUM - GAINESVILLE GA
SATURDAY JUNE 10th - MATINEE 1:00PM - EVENING 6:00PM
SUNDAY JUNE 11th - MATINEE 1:00PM



please scroll down to view more detailed information about rehearsals...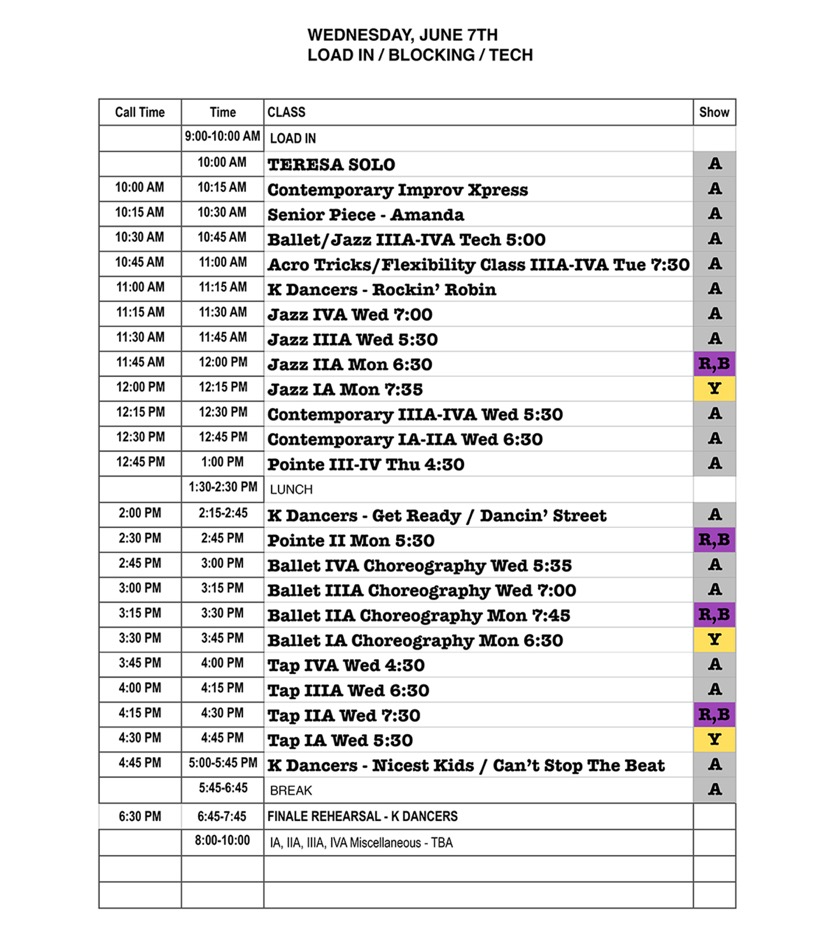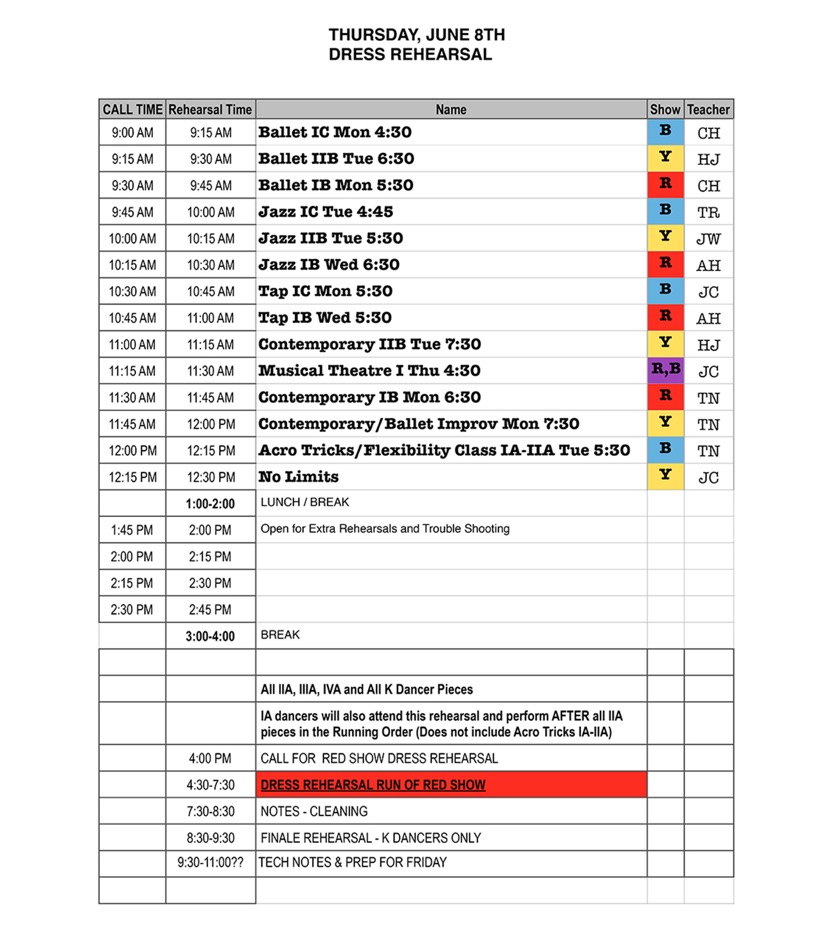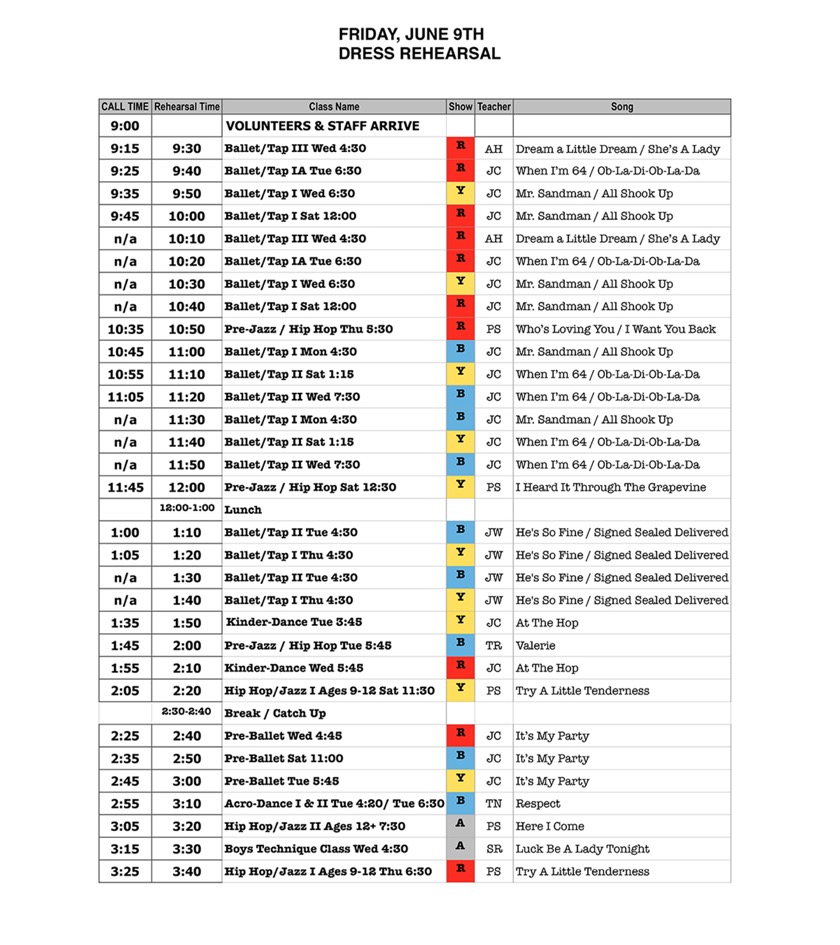 _________________________________________________________________________________________________________________________

MANDATORY FINALE REHEARSAL AGENDA - FRIDAY, JUNE 9th

MAKE SURE THE ADULT RESPONSIBLE FOR GETTING YOUR DANCER TO & FROM THIS REHEARSAL UNDERSTANDS & HAS READ THESE RULES COMPLETELY!!

The "finale rehearsal" is when all the dancers performing in the show learn the dance that is completed at the end of the show.


IMPORTANT FINALE REHEARSAL INFORMATION:

Students may wear street clothes for the finale rehearsal. Dancers

DO NOT

have to wear their costume for the Finale Rehearsal.

Dancers should leave

ALL OF THEIR BELONGINGS

with their parent or guardian before entering the Finale Rehearsal.

The Finale Rehearsal is a

closed rehearsal

. This means only parent volunteers, office staff, and teachers will be permitted in the

auditorium during this time. (We must adhere to fire code and we need a quiet and controlled atmosphere)

Please be PREPARED with an umbrella, blanket, fan, sunscreen etc. if you are not volunteering.

The weather in June is unpredictable and can be uncomfortable if you DO NOT plan ahead.


MANDATORY FINALE REHEARSAL AGENDA - FRIDAY, JUNE 9th 2017
BRENAU UNIVERSITY - PEARCE AUDITORIUM - GAINESVILLE, GA

_________________________________________________________________________________________________________________________

DRESS REHEARSAL

DRESS REHEARSALS ARE MANDATORY!!
The dress rehearsal is located at BREANAU UNIVERSITY'S PEARCE AUDITORIUM, NOT THE STUDIO!
Please see the attached rehearsal schedules above.

Dancers who miss any Dress Rehearsal will NOT be allowed to perform.
Dress Rehearsals are CRUCIAL and extremely important to the well being and integrity of any production.
Dancers who miss Dress Rehearsals put themselves, their classmates, and the production at risk for substandard performances.
Full Dress Rehearsal Means:

Hair is properly styled.

A "ballet bun" tutorial is available on our website.
Make-up is applied.

(this goes for ALL students) NO EXCEPTIONS! A guide is available on our

website

to help with color and application for the stage.
Proper color shoes and tights are worn.

We have tights available for purchase in our studio office. Please get them ASAP as we will sell out!

Tights must be
Capezio
Brand Ballet Pink (BPK), Light Suntan (LSN), or Black (BLK).

We recommend style number

1816

for adults and

1816C or 1816X

for children.

The Light Suntan Bodytight (

1818 or 1811

) is also appropriate for older dancers.

In the event that your child's tights rip or tear, we will have extras backstage that will be added to your account.
REVOLUTION brand "U Shell Tap Shoes" can only be purchased through our studio.

They are NOT available at retail stores or at
discountdance.com
. If you need this shoe, please have your child sized ASAP
so we can ensure the order arrives in time for pictures, and most importantly, the recital.



Visit
www.discountdance.com
for great prices on dance tights, leotards, shoes and other dancewear!

Students get 10% off their first purchase and 5% off thereafter with the following ID:

Enter the Studio/Teacher Referral Code
55857
Online During Check Out.

______________________________________________________________________________________________________________
DRESS REHEARSAL AGENDA


Students and parents go to the check in desk upon arrival. Check-in desk is located to the left after entering the main lobby theatre doors.
a.

Please arrive

15 minutes prio

r to your scheduled CALL time, dressed and ready to go on stage.

b.

DO NOT DRESS AT THE THEATRE!!!

c.

Rehearsal should take no more than approximately one hour per class/dance.
Please arrive dressed in your first rehearsal costume with hair and make-up completed.
*Ballet/Tap Combo classes and/or Pre-Jazz rehearse in the following order: Ballet, Tap, Jazz


Remove your students' jewelry and nail polish prior to arriving at the theatre.
If your student is in more than one number they must have their other costume pieces, shoes, and tights with them at this time.
Please make sure all costume pieces, shoes, and tights are labeled with your dancer's name.
Place ALL pieces in a labeled Large Zip Lock Bag. Be sure EACH extra costume is on a separate labeled hanger.
ALL

Dancers will receive a color coded arm band at check-in that should not be removed until

AFTER

their finale rehearsal.
Parents of all dancer's who have dress rehearsal on

Friday

will receive a matching arm band and should give that arm band

to the

guardian responsible for the Finale Rehearsal pick up

.
All parents who are not volunteers will be asked to go to the balcony level for the remainder of their dancer's rehearsal.

PARENTS WITHOUT A VOLUNTEER LAMINATE WILL NOT BE ALLOWED BACKSTAGE.
Dancers will be led backstage by a volunteer and attend their on stage rehearsal.
An announcement will be made when dancers are ready to be picked up after their rehearsal. All parents will pick up their dancers in the main lobby.
Older dancers that are in between rehearsing numbers may wait quietly in the orchestra level of the auditorium.
WATCHING DRESS REHEARSAL

Anyone may watch the dress rehearsal from the balcony level. We do ask that those who choose to stay do not roam around
or talk inside the auditorium. If you must bring siblings to the rehearsal, they must have adult supervision at all times.


NO TALKING IN THE AUDITORIUM / SILENCE ALL CELL PHONES SIBLINGS MUST STAY SEATED IF THEY ARE STAYING INSIDE DURING THE REHEARSAL.
ABSOLUTELY NO FOOD OR DRINK IN THE AUDITORIUM!! SECURITY WILL BE ON SITE TO ENFORCE THESE POLICIES.


Pictures and videos may be taken at the Dress Rehearsal, but never during performances!
Performance DVD's and professional performance Pictures will be available to all students.
Order forms and information will be provided in the theatre lobby.